11 tags
16 tags
Last couple of days to support this Kickstarter... →
Late comic Robert Schimmel might get tribute book... →
9 tags
18 tags
30 tags
17 tags
6 tags
27 tags
3 tags
Marilyn...50 years ago today... →
10 tags
Writing Seminars in Los Angeles →
16 tags
Save $10 on Art! →
30 tags
Artist of the Week - Art Business News →
Most people's eyes gloss over the junk mail, flyers and various other advertisements that make their way to our mailboxes on a daily basis. Sandhi Schimmel Gold turns them into art. With her striking, intricate yet simple paper mosaics, the Virginia-based artist repurposes the advertising messages and images that bombard us on a daily basis to, in her own words, "create a new image of beauty—an...
25 Awesome Examples of Artistic Repurposing of... →
It's no secret we love junk here at Trash Talk, and now we want to share the beautiful side of garbage with you. These are some of the best examples of junk turned into artistic masterpieces. It's just another creative and unique way to reuse s
24 tags
Recycling materials for art - The Prospector -... →
14 tags
6 tags
A Distinctive Style →
Check out the article in this month's issue of A Distinctive Style!
"Click here to return to the magazine"
– Enter to Win Schimmel Notecards
In Praise of Women - Eleven Portraits by Artist... →
26 tags
6 tags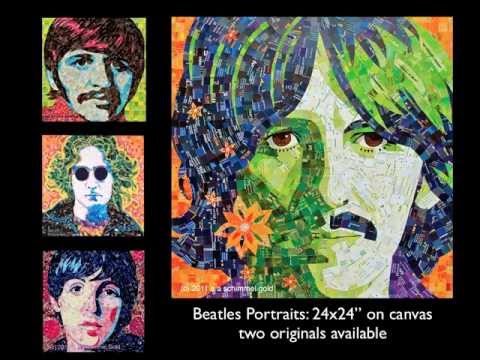 30 tags
10 tags
The Artist Inside... →
30 tags
Junk Mail Art | greenUPGRADER →
19 tags
Here's Looking At You, Kid →
30 tags
15 tags
Elvis Presley- Pop Art Portrait in Junk Mail →
30 tags
30 tags
11 tags
21 tags
14 tags
What I did on my summer vacation →
20 tags
13 tags
http://myemail.constantcontact.com/Wine--Women-and-... →
You're Invited - Art Openings in Chicago & Phoenix this weekend!
words and texture by bob...and bob →
16 tags
20 tags
13 tags
12 tags
7 tags
13 tags
Mosaic Inspiration →
how ancient mosaics and pop-art influence my work
http://myemail.constantcontact.com/Sneek-Peek---Jim... →
New Jim Morrison Portrait
1 tag
1 tag